1. So like I mentioned in last week's
Friday Five
, I went to JoAnn's and finally purchased some fabric to make our curtains. It was a bit of an ordeal, having to go through all of the swatches and agonizing over my decision, but I placed the order and with all of the sales ended up saving over $150. The fabric came in yesterday and looks great. I ended up going with my gut and chose a neutral. It's similar to the one in the picture below on the right. I LOVED that fabric but it was $65 a yard! And no, I didn't see any gold flakes in it.
2. I wanted to get into the Valentine's Day spirit and decided to paint my nails with a pink and purple glittery nail polish. But then it was too sparkly, so I just did one finger on each hand (please disregard my atrocious cuticles).
3. Speaking of Valentine's Day, Target has some adorable Valentine's decorations. I want to go back and get this little bird on a bowl.
4. I know it's a little late, but I finally decided on a 2014 wall calendar for our kitchen. I decided to get the Pieces and Patterns Calendar from
1canoe2
. The colors just look so beautiful and I'm a sucker for anything patchwork quilt inspired.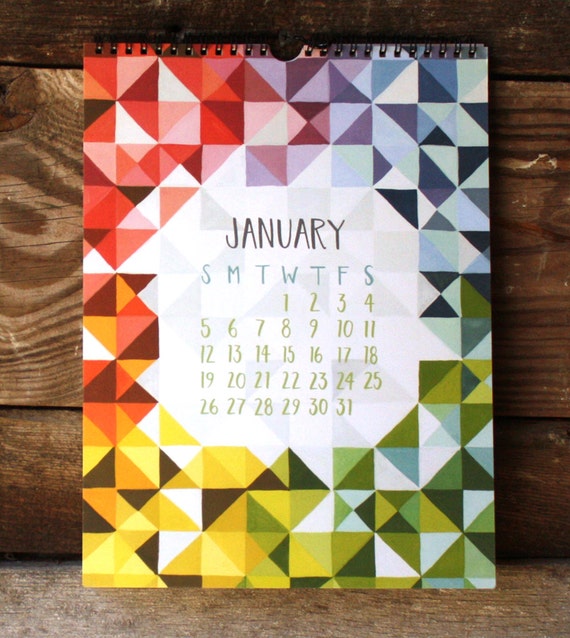 5. I don't know how it is where you are, but here in NC it is freezing! I think the high today is supposed to be 29 degrees?! I'm already dreaming of our June beach vacation. We'll be headed to one of my favorite places on earth, Nags Head, NC. I've been almost every year of my life and we always stay at a beach house called the Crow's Nest (which happens to be the same beach house my parent's were married at over 30 years ago.) Five months and counting!