1. I have slowly been working on organizing my recipe box. I've had to rewrite some recipe cards and I've also written some new cards with recipes I've found on Pinterest, (you can find my virtual recipe box
here
). I found some super cute
Rifle Paper Co.
recipe cards at TJ Maxx, but now I want to have a pretty recipe box to put them in. I've narrowed it down to the two below, what do you think?
I like how this one has a fun, vintage feel to it.
This one is more expensive, but it has a kind of heirloom quality about it that I like.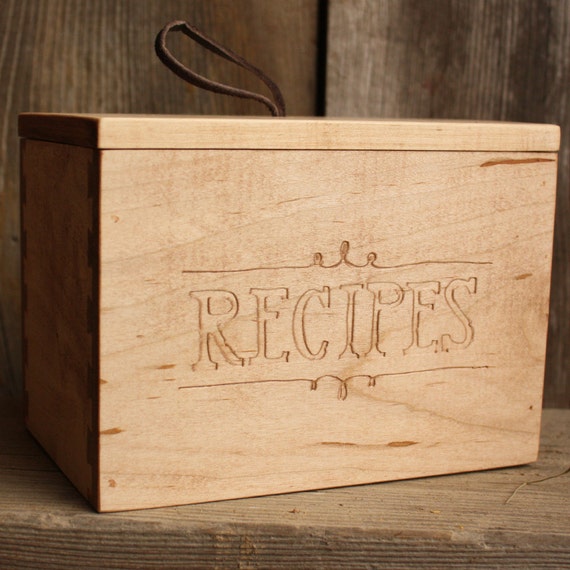 via
2. I'm pretty sure I'm making
these doughnuts
this weekend. Yes, I am the girl that registered for (and got!) a
baked doughnut pan
for our wedding. I've got the perfect pink and white sprinkles to go on top too.
3. I made this little printable for my kitchen gallery wall. It was my first time using
Picasa
, and I did not find it user friendly at all (but that could very well be my own ineptness), I guess I'll have to play around with it some more.
4. My nightly reading now consists of gardening books and seed catalogs in preparation for planting my first vegetable garden in a few weeks. Both my grandmother and Dad are excellent gardeners, so I'm hoping that some of their skill has been passed down to me. In the next week or so I'll be trying to start my seeds indoors (getting them to sprout inside before I plant them in the garden outside). And this weekend I am going to make a compost bin. Is it sad that I'm excited about dirt? Please say no.
5.
Emily Ley
is having a huge sale in her shop (up to 60% off). I got her
Simplified Planner
for Christmas and I absolutely LOVE it. I was also able to score
this print
before it sold out. I'll be glad to have it hanging in my house as a daily reminder, "I will hold myself to a standard of Grace, not perfection."