1. Spring? Is that you? Are you here to stay? The weather has warmed up and I'm hoping it's here to stay although I have heard rumors that there might be a late snowstorm next week. But I'm not going to think about that, instead, I'm going to think of all the fun things I am going to do this spring. One of my favorite blogs,
Southern Weddings
, has a great list of fun stuff to do this spring, I'm hoping I can mark off almost all of them.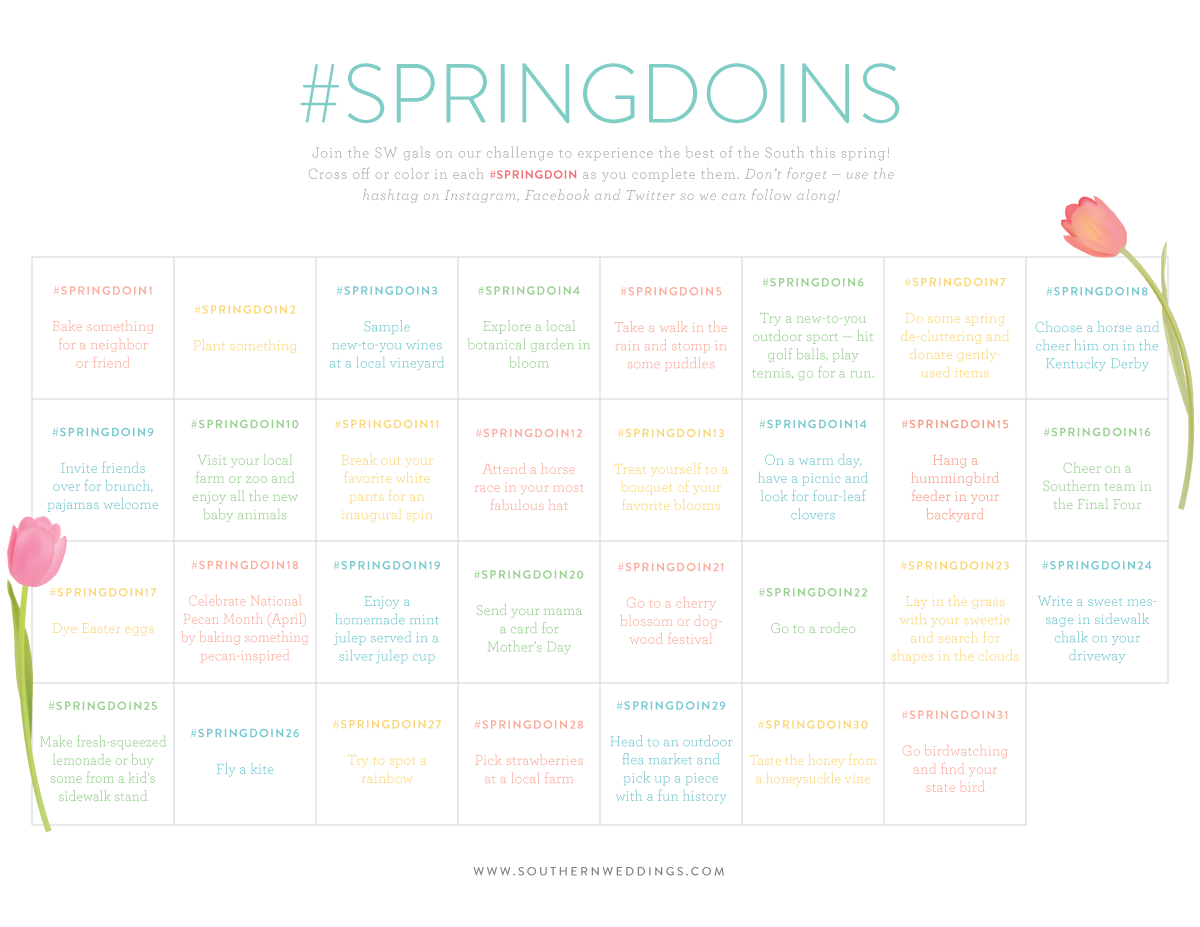 A printable copy can be found
here
2. I built my raised garden beds last weekend. All by myself!!! G was helping his Dad, so it was up to me to get it done. I have to admit, later that night I sure was sore from hauling all of those bags of dirt. I am using the gardening method that is described in
this book
. I am following the instructions exactly, so I'm hoping it works out well. I haven't planted my seeds yet, it would have been too cold this week, but I'm planning on getting them planted this weekend.
3. I can't believe Easter is only a month away! This year is really flying by. Easter is my second favorite holiday (after Fourth of July), and I love all of the traditions that my family had growing up. My favorite Easter tradition is the Sunrise Service at church, we went every year when I was younger. There is something so holy and sacred about reading the resurrection story at dawn. I'm also looking forward to decorating my house, I love this pillow!
4. Now that the seasons are changing, I'm getting the urge to change my hair. Do you get that hankering too? I don't really want to cut it because I like having long hair during the summer, but I'm thinking about changing the color. During college I experimented a lot with my hair color, I even had hot pink streaks at one time, but I've stuck with my natural color for the past couple of years. I really like the ombre look and am thinking about doing that, what do you think?
5. It's Tournament Time! I'm from NC so we tend not to be as big into college football as our fellow Southerners, but we sure love us some college basketball! I was raised an NC State fan and God blessed me with marrying a fellow NC State fan so we're able to cheer as a house united :) We weren't sure the Wolfpack were going to be able to go to the "big dance" but we sure were excited when they got in (
and they were too
). What about you, is your team in the tourney? *Update* NC State lost last night and we're pretty sad about it. If you're cheering for your team, I hope they did better than ours.