1. Last year, Pier 1 had the cutest little white dessert plates that had lace looking edges, they called them
Doily Plates
. I loved them, but never ended up buying any. I stopped in this week in hopes that they had them again and I was in luck! They are so cute! I bought four, but I think I might go back and buy four more, they're $6 each, so not too bad.
2. Do you like personality tests? I love them! Blogger Leigh Kramer is doing a really interesting blog series about the
Enneagram Personality Test and Blogging
. I can't wait until she gets to my personality (according to the Enneagram, I am a 9, "The Peacemaker"; and with the Myers-Briggs, I am an ISTP).
3. Call me a nerd, but Catching Fire comes out on DVD today and I am SO EXCITED!!!! I am a huge Hunger Games fan and I thought that the Catching Fire film was so good! Just as good as the book. On my way home from work tonight, I am stopping by Target to buy the DVD, some microwave popcorn (to entice my husband to watch it with me) and some dark chocolate m&m's. Best. night. ever.
4. Last Saturday I had the pleasure of attending a calligraphy class led by Lauren of
Blue Eye Brown Eye
. It was so much fun! I was hoping that I would be a natural and pick it up effortlessly, but alas, that did not happen. So I'll be doing a lot of practicing and (hopefully) improving.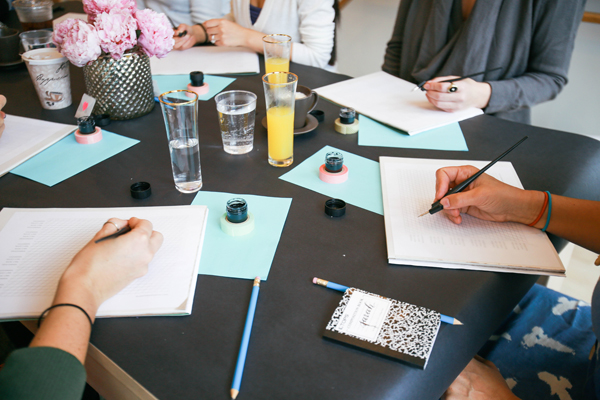 5. Oh my gosh, a brand new Homegoods store is opening near me this weekend. I can literally walk out my front door and into the new Homegoods in 10 minutes. This is either the best thing ever or the worst thing ever, I'm not sure yet (but I can already tell you which one my husband thinks it is :) ). I was able to peek in the front windows a few days ago and it looks glorious. I've never even been to a "real" Homegoods, I've only ever been to a TJ Maxx/Homegoods combo, so I am super excited. A friend and I are going on opening day (of course).